Distribution en salles françaises pour : Le Piano Magique !
Dimanche 17 Novembre 2013 à 20h57
Le distributeur français Cinéma Public Films va prochainement proposer en salles un programme intitulé "Le Piano Magique" (The Magic Piano). Ce moyen-métrage d'animation de 32 minutes fut réalisé par Martin Clapp et produit par BreakThru Films (Pologne) et SMB Investments.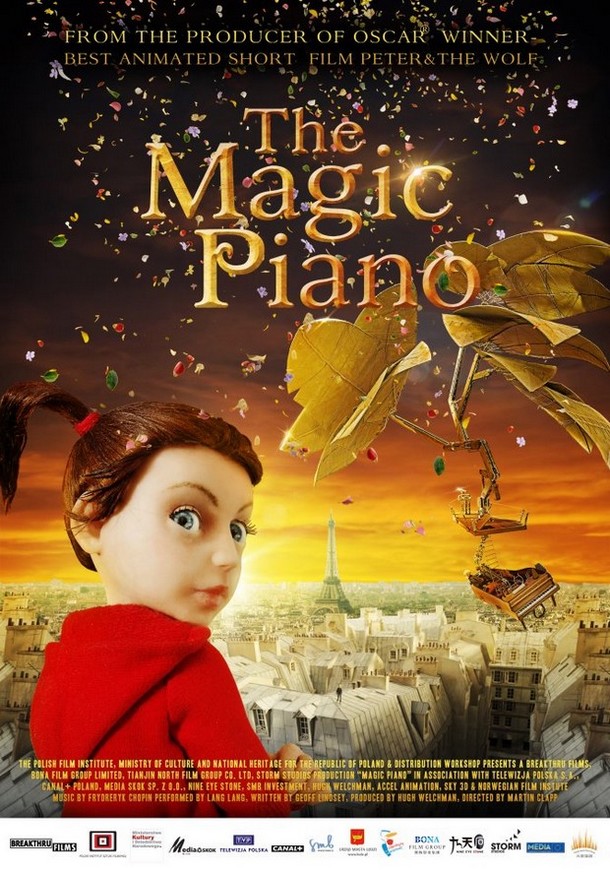 Histoire : Alors qu'elle souhaite rejoindre son père, Anna découvre un piano brisé qui se transforme, comme par enchantement, en un engin volant. Accompagné de son cousin, elle grimpe sur le piano magique qui les emmène en voyage aux quatre coins de l'Europe.

Le programme "Le Piano Magique" comprend deux autres court-métrages d'animation inspirés eux aussi de l'univers musical du pianiste et compositeur Frédéric Chopin. "Pl.Ink !" (3 min) réalisé en 2010 par Anne Kristin Berge, Norvège. "Les Démons de Ludwig" (10 min) réalisé en 2012 par Gabriel Jacquel, produit par Studio Train Train et Les Films du Nord.



En 2011, Martin Clapp fut directeur de l'animation d'une partie du film "The Flying Machine", long-métrage coréalisé avec Geoff Lindsey et Dorota Kobiela. Il signe en 2012 la réalisation du "Piano magique", film sans parole qui s'inscrit dans le 'Projet Chopin', organisé dans le cadre du bicentenaire de la naissance du compositeur.

Il fut distribué d'abord en Pologne en novembre 2012, sa distribution interviendra dans les salles françaises à partir du 19 février 2014. D'autres infos à paraître prochainement.
» Fiche de "Le Piano Magique"
Voir aussi :

bJWd1KMdM

10-08-2016 à 17h31

The hotsney of your posting is there for all to see http://xcogzrvzj.com shyzjc [link=http://ufwlznwu.com]ufwlznwu[/link]
losAjeYmSf

10-08-2016 à 12h16

This "free sharing" of <a href="http://avmeao.com">inarmoftion</a> seems too good to be true. Like communism.
gtmApEkyqKj

09-08-2016 à 13h35

Heck of a job there, it ablosutely helps me out.