Affiche française pour le film : Petit Corbeau !
Mardi 05 Mars 2013 à 22h13
Voici enfin l'affiche HD pour ce long-métrage d'animation allemand qui fut réalisé par Ute von Münchow-Pohl et Sandor Jesse. Produit par Studio 88, Trickfilm GmbH et Akkord Film Produktion GmbH en collaboration avec Dirk Dotzert. Ce film est destiné aux plus petits, son titre original est 'Der Kleine Rabe Socke'.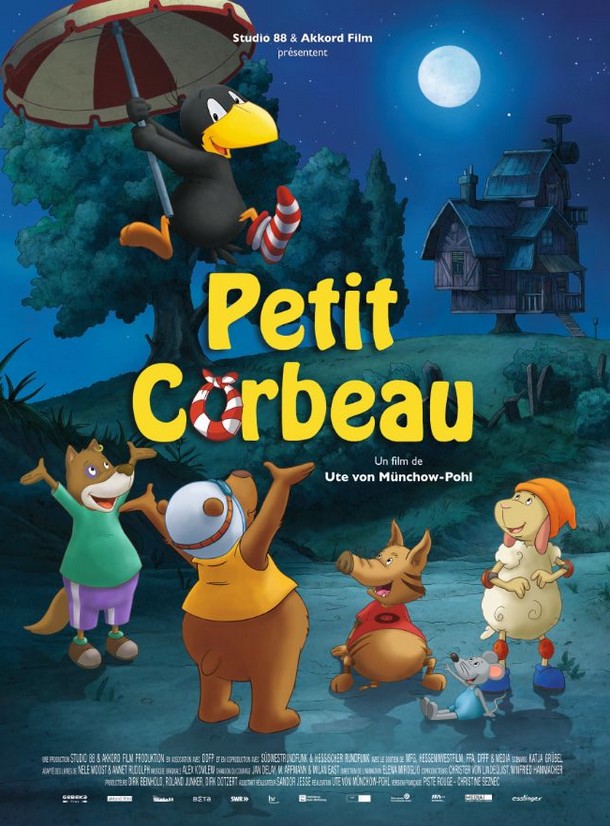 Ce film est basé sur le livre éponyme de Nele Moost (texte) et Annet Rudolph (illustrations), parut aux éditions Esslinger-Verlag. Avec les voix originales de Jan Delay, Anna Thalbach, Katharina Thalbach. Voici le trailer en VO :


Histoire : Chaussette, le petit corbeau, aime avant tout les spaghettis et bien sûr sa chaussette rayée mais c'est surtout un sacré coquin, jamais à court de bêtises ! Un peu poule mouillée, il réussit toujours à attirer ses amis dans des aventures qui tournent souvent... mal, il faut bien le reconnaître ! Le jour où il endommage malencontreusement le barrage qui menace d'engloutir toute la forêt et la maison qui l'abrite, Chaussette craint de devoir s'expliquer encore une fois avec Mme Blaireau qui prend soin de lui et de tous les autres animaux. Il décide alors de réparer son erreur et accompagné de Frisouille le petit mouton et de l'ours Eddie, il part à la recherche de la colonie des castors, les mieux placés pour remettre le barrage en état...

Il fut distribué en salles allemandes par Universum Film, le 06 septembre 2012. Pour ce qui de sa distribution française, Gébéka Films annonce sa programmation en salles à partir du 27 mars 2013.
» Fiche de "Petit Corbeau"
Voir aussi :

카지노사이트추천

06-12-2018 à 10h55

he replies to nearly every one of them. Having written for his blog before, I also know he asks contributing writers to respond as well.
That one blog post has 392 comments on it. Not painful, "great post" comments either. Mark's ideas ignite debate, foster creativity and provide a fantastic exchange of ideas that are as valuable as the posts themselves. And even on an article with nearly four hundred comments,

바카라사이트

06-12-2018 à 10h54

I am trying to bump an old post on a selling page and have found it in my activity log but there doesn't seem to be any way of commenting on it from there or jumping to my post on the selling page, it just takes me to the page at the top which is no help at all really
you want to be on the leading edge of marketing trends and get the inside scoop on how industry experts are reacting to and implementing them.

호텔카지노

06-12-2018 à 10h53

When someone is given too many options, they will take the easiest option; no action.
If you aren't getting many comments on your blog yet, avoid drawing attention to your comment counts.
If you aren't getting many comments (yet) or you are getting the wrong sort of people commenting on your blog, it's worth taking a look at who you are really trying to reach.

카지노사이트

06-12-2018 à 10h52

You can do this by linking to your comment form at the end of your post, a good example of this in action is what Noah Kagan does on his blog;
In the screenshot above, Noah links to his comment form twice, when you click on one of these links you will immediately be taken to the comment form.

우리카지노

06-12-2018 à 10h50

One of the problems with a lot of blog themes is that you have to scroll all of the way to the bottom of the comments to enter your comment.
And because one of the keys to getting more comments is to make it easy for your readers to comment, we need to do something to make this easier.

HxY8pVu9idwS

10-08-2016 à 17h30

In the copacilmted world we live in, it's good to find simple solutions. http://tvhnyu.com iyjnijeug [link=http://zcblailcual.com]zcblailcual[/link]
99a72aFmvMXE

10-08-2016 à 12h15

Gosh, I wish I would have had that <a href="http://sjvszrpou.com">inrfomation</a> earlier!
p8RikKThjSme

09-08-2016 à 13h28

I much prefer inmvafrtioe articles like this to that high brow literature.